My Blog
Posts for tag: root canal
By Vibrant Smiles Dental
March 10, 2015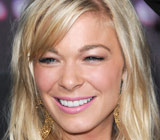 Singer LeAnn Rimes was forced to cancel a string of performances recently, as a more pressing engagement came up: a late-night meeting with her endodontist. It turned out that the country-pop star needed some emergency dental work performed while she was on tour. But her die-hard fans needn't have felt left out — Rimes faithfully tweeted each stage of her dental treatment.
The trouble began before she was scheduled to play a show in Ohio. "Waiting on the endodontist to meet me and do a nighttime root canal," she informed her twitter followers. Instead of performing, Rimes was advised to spend the next few days resting after the emergency treatment. "Happy Friday! I'll be spending mine in bed," she tweeted after the previous evening's procedure. The following Monday, Rimes returned to the dentist's chair for follow-up treatment.
It turned out that the singer had been battling dental pain for months. "I am so disappointed that I can't make it to my fans tonight." Rimes explained in a statement. "I had wanted to give them the show they deserved and only wish this tooth pain held out a little longer."
If there's a moral to this story, it's this: If you have tooth pain, don't wait to see a dentist. Call us right away!
A feeling of constant pain and pressure in your mouth is a clear indication that you may need a root canal. Another telltale symptom is sharp pain when you bite down on food, or lingering pain after eating something hot or cold. Not every symptom is as clear-cut, however — the only way to know for sure whether you need treatment is to come in for an evaluation.
Pain in your teeth or gums may be a symptom of a serious condition. Even if the pain goes away temporarily, an underlying infection generally does not. If a treatment such as root canal therapy is needed, the sooner it is obtained, the better you'll feel. And remember, root canal treatment doesn't cause tooth pain — it relieves it!
If you have any concerns about tooth pain, please contact us or schedule an appointment for a consultation. You can learn more in the Dear Doctor magazine articles "I'd Rather Have a Root Canal" and "Signs and Symptoms of a Future Root Canal."
By Vibrant Smiles Dental
July 15, 2014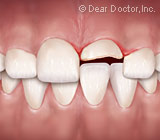 When a permanent tooth has been injured, our first priority should be to save it. A root canal treatment (where the interior pulp of the tooth is removed and the pulp chamber and root canals are filled and sealed) is usually the best approach for tooth preservation.
An immature permanent tooth, however, presents a different challenge. While the pulp is less essential to a mature tooth's vitality, it serves a critical purpose in the tooth's early development before early adulthood. The pulp produces layers of dentin necessary for the tooth's root system development. Completely removing the pulp at this stage may retard root development and cause the tooth to eventually weaken, and become brittle and darkened.
For younger teeth, we should therefore use alternative techniques that preserve as much healthy pulp as possible. One of these alternatives is Indirect Pulp Therapy, used when the pulp hasn't been exposed by the trauma. With this technique we remove as much damaged dentin as possible while preserving the harder dentin closer to the pulp. After applying an antibacterial agent to protect against infection, and then filling and sealing the tooth, the pulp can continue to produce dentin in a normal way.
If pulp exposure has occurred, some form of pulpotomy — the partial removal of any damaged or infected pulp — would be in order. Our goal here is to leave as much of the pulp as possible, and then apply substances that stimulate the remaining pulp to create dentin. The most common type of growth substances are calcium hydroxide or mineral trioxide aggregate (MTA).
If the pulp isn't at all salvageable, we may then turn to a procedure known as apexification. After removing the pulp we insert MTA at the root end of the tooth, then fill and seal the remaining interior as in a regular root canal treatment. The MTA will help the surrounding bone to heal and continue to grow around the root to further support the tooth.
Recent research into pulp stem cells promises further advances in this area. The regenerative qualities of stem cells could eventually help us "engineer" root development. Until then, there are still effective ways to give a young, damaged tooth a fighting chance to survive.
If you would like more information on preserving injured teeth, please contact us or schedule an appointment for a consultation. You can also learn more about this topic by reading the Dear Doctor magazine article "Saving New Permanent Teeth After Injury."
By Vibrant Smiles Dental
June 20, 2014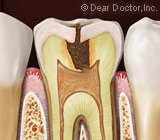 Tooth decay can be relentless: left untreated it can work its way into a tooth's inner core — the pulp chamber or better known as the root canal. Once this occurs, the best course of action to save the tooth may be a root canal treatment to clean out the diseased pulp (nerve) and seal the canal from further decay.
So, what signs and symptoms might you encounter if decay has invaded a tooth's root canal? When the pulp is first infected you may experience acute pain; over time, however, the pain may suddenly dissipate. This doesn't mean the tooth has healed itself — quite the contrary, it may mean the infected pulp tissue, including the nerves, has died. Once the nerves die, they no longer transmit pain signals to the brain.
While the pain may cease, the infection hasn't and will continue to travel from the end of the tooth root into the bone. At this point, you may encounter pain whenever you bite on the tooth. This time the pain is originating in nerves located in the periodontal ligament that surrounds the tooth root and joins the tooth with the jawbone. This can lead to an acute abscess (with accompanying pain) or a chronic abscess that may have no pain symptoms at all. As the decay progresses you may eventually suffer bone and tooth loss.
The important point here is that you may or may not notice all the signs and symptoms that indicate deep decay within a tooth. That's why it's important to undergo a thorough dental examination if you have any symptoms at all, especially acute pain that "mysteriously" disappears.
A root canal treatment and removal of the decayed tooth structure will stop the progress of tooth decay and preserve the tooth. The longer you delay, though, the greater the risk your tooth will eventually lose the battle with tooth decay and infection will continue to spread.
If you would like more information on root canal treatment, please contact us or schedule an appointment for a consultation. You can also learn more about this topic by reading the Dear Doctor magazine article "Signs and Symptoms of a Future Root Canal."